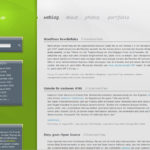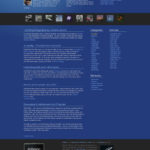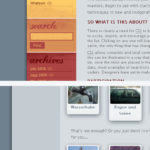 Some of my old blog designs from 2005-2008.
That was in 2005. Now it's 2020, and it's time again to do some serious blogging. And again I will be using WordPress for that. Thanks to WordPress I got to know a mexican girl who commented on my blog in 2005, who later became my girlfriend and with whom I moved together in Mexico City in 2010.
Although it took me quite some time to make the transition from being a script kiddie towards becoming a "real" (object oriented) programmer and grow professionally – I did exactly that.
And I have been very fortunate on that path. I could do what I liked professionally, create a career for myself. Learning from more experienced colleagues, fearlessly accepting challenges beyond my horizon and grow. While WordPress has been important in the beginning, since it got me started and introduced to PHP – as responsibilities grew, priorities shifted, I got to know different CMS platforms, prettier code, and had to learn a lot. Unfortunately this also resulted in me not finding the time to write, publish, share content or design my own WordPress site anymore.
The skills I had a acquired in my free time, experimenting with (X)HTML, CSS and PHP, and reading blogs like AListApart, 456Bereastreet, admiring the designs of the CSS Zen Garden, making my first WordPress themes and plugins allowed me to spend more than a decade working abroad in Switzerland, the United States, and finally Mexico as well as my home country Germany. I got to know many different industries and sectors such as Manufacturing, Tourism, Ecommerce, Retail, News & Entertainment, Health Supplies ans Online Agencies both as employee and as a freelancer. I have contributed to the success of employers and clients like GoDaddy, Televisa, ClubParkRoyal, MetLife, Linio, Dafiti and many more. I've worked with ERP & CRM platforms, Warehouse Management Systems, Online Payments, APIs. I made Back Office implementations that drive GoDaddy Sales in Latin America via Netsuite & Pipedrive CRM, custom-made Middleware platforms, backends and many many more.
To show my appreciation for the importance that WordPress played in the beginning of my professional career, I'll be loyal to the platform, and try to give something back to its community. By Asides that, I have a different technical background now than 15 years ago, WordPress has improved with the universe of technologies that exist around it. Not to mention that I happen to work at a company in Berlin, which uses WordPress & WooCommerce to power their online stores. Bottom line, I missed blogging, there's always some finding, a new development or plugin made worth sharing with the world. And I'll share it here.